The focus of this project is on the following central problem:
The benefits of urban green spaces are insufficiently known in Suriname, insufficiently valued and are not included in urban planning and management.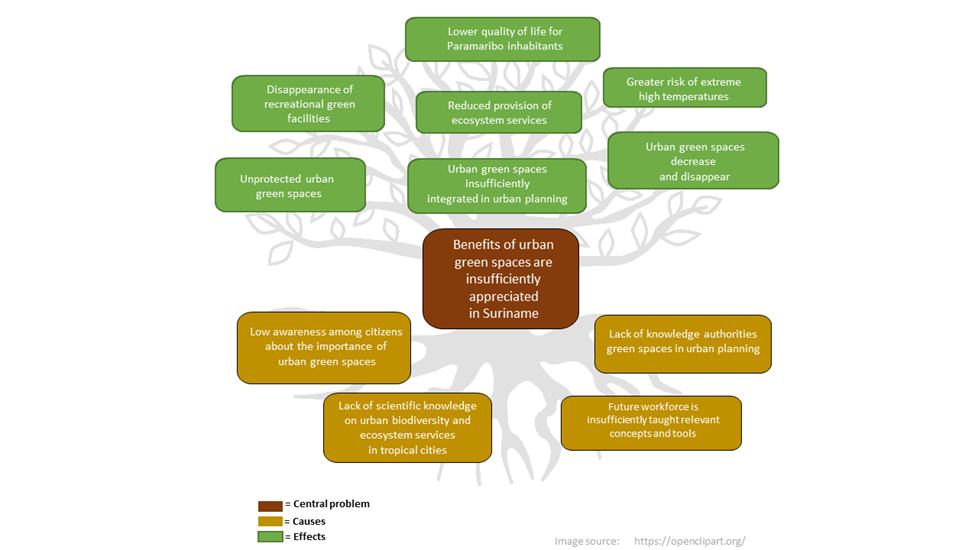 The objective of the project is to promote a green Paramaribo in which ecosystem services contribute to a healthy and more livable environment for its inhabitants.
The project aims to achieve the following results:
Providing scientifically-based information on the benefits of urban green spaces in Paramaribo, giving policymakers a hand to improve urban green spaces.
Greater awareness among policymakers, planners and civil society about the role that urban green spaces can play in Paramaribo and other urban areas so that this can be included in their planning.
Active involvement of citizens and educational institutions in the monitoring of urban green areas in Paramaribo and Wanica, whereby consultation is also held with policy makers in the development of the monitoring protocol and sharing of actionable data.
Making innovative educational material about green cities accessible to universities and educational institutions in Suriname and the Netherlands, with Suriname as a case study country.
The target group consists of current and future policymakers, the first of which mainly concerns policymakers dealing with urban green spaces and spatial planning and the second refers to students who represent the future workforce. The policymakers are involved at different times during the project to share knowledge and exchange ideas about how the knowledge gained can be included in planning and policy. The students are involved in data collection and at the end, making the collected information available in the form of educational material.
The project started January 2019 and ends in January 2023. In our follow-up project Green4Action we focus on turning the collected data into actionable knowledge and on evaluating the impacts of our work in the Greater Paramaribo region.